Laurie Zerga
Founder and Chief Culinary Officer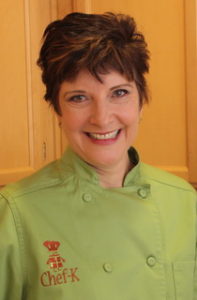 Laurie Zerga, founder and Chief Culinary Officer of Chef-K provides culinary health education for kids ages five through eighteen, as well as adults.  She has an extensive business background as a former officer of a fortune-500 company. In summer 2002, she began to combine her business knowledge with her passion for nutrition and culinary arts. She created and held her first youth culinary camp.  In the last 15 years, she has developed culinary programs that combine nutrition, the science of food safety, cooking instruction, table etiquette and tours of food businesses. Her primary clients are organizations that support youth and families as she develops and implements life skill programs that teach healthy eating habits.
She has been a guest of ABC's "View from the Bay", Fox "Good Day Dallas", and KTVU Bay Area People, Grapevine Radio and has also been featured in East Bay Business Times and the Costco Connection cover article, "Mom, Inc".   Passion for family issues is a strong vein in Laurie's life.  This is witnessed through 20 years of parallel time given to family, volunteering in schools and balancing a corporate career.  Her menu planning and cooking for family and large groups began as a child during summers at her grandparents' guest ranch. By age sixteen she co-chaired her first dinner for two hundred guests to raise funds for the Sebastopol Methodist Church Big Sister, Big Brother Group. She shares her knowledge and strong family values with her clientele.
Laurie serves as an Advisory Committee member of the
Non-Profit Nourishing Generations






Thama Brentano
Chef-K Trainer
Thama Brentano has worked in the food industry for over 20 years. She was formally trained as a Pastry Chef, but over the years she has worked in all areas of the kitchen. In addition to her work in restaurants and catering, Thama has done recipe and product development for corporate clients as well as independent producers. Currently Thama is the Culinary Expert at the Walnut Creek Williams Sonoma store where she teaches the Technique and Junior Chef classes. Prior to working at Williams Sonoma she taught at a local cooking school helping home cooks develop their kitchen skills and confidence. While Thama loves being in a production kitchen, she particularly enjoys sharing her love of food and cooking with adults and children, teaching them about the joys and health benefits of home cooked meals.